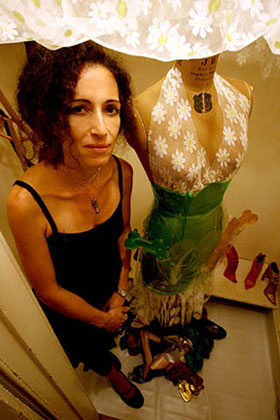 photo by Joel Simpson
Inherent in my sculptures, installations and drawings is a stylized notion of femininity where Issues of maternity and personal narrative manifest in form and content. Combining materials and processes I continue the dialogue with master artist mentors in California and New York, and maternal/paternal legacy; influencing my artistic language from influences and traditions of couture, costuming, sculpture fabrication (family plastics business), Califonia Ceramic sculpture (training) and the cultural tradition of Armenian crochet lace (maternal legacy), form my personal dialect of art and craft. With sensuous connotations, materials are immediate and playful as sartorial surrealism is stylistically prevalent. Theatrical installations envelop and embody all that is personal, enigmatic and playful- as a daughter playing with her fashionable fashion designer/artist mother's things to transform them while in conversation about love and loss.
Variable or site-specific installations are created as translucent and textural surroundings. Soft spaces made from fabric and mixed mediums reference domestic spaces that also reference a set where viewers are the actors and audience inside and outside the sheer walls. Enveloped in the work, one experiences a sculptural surrounding that is enigmatic and soothing.
Sculpting is the vital feature of my process. Modeled, sewn, assembled, or cast into corporeal forms, sculptures are created from ceramic, fiberglass, wax and found objects. Nipples sculpted, sewn or drawn are a signature symbol of sustenance and sexuality and symbolic meaning.
Drawing is an essential part of my process and I produce sculptural works on paper as objects that stand on their own or are integral to the sculpture and installation. Fetishized Images and motifs inspired by myth, the cosmos and mostly all things sensual and maternal.